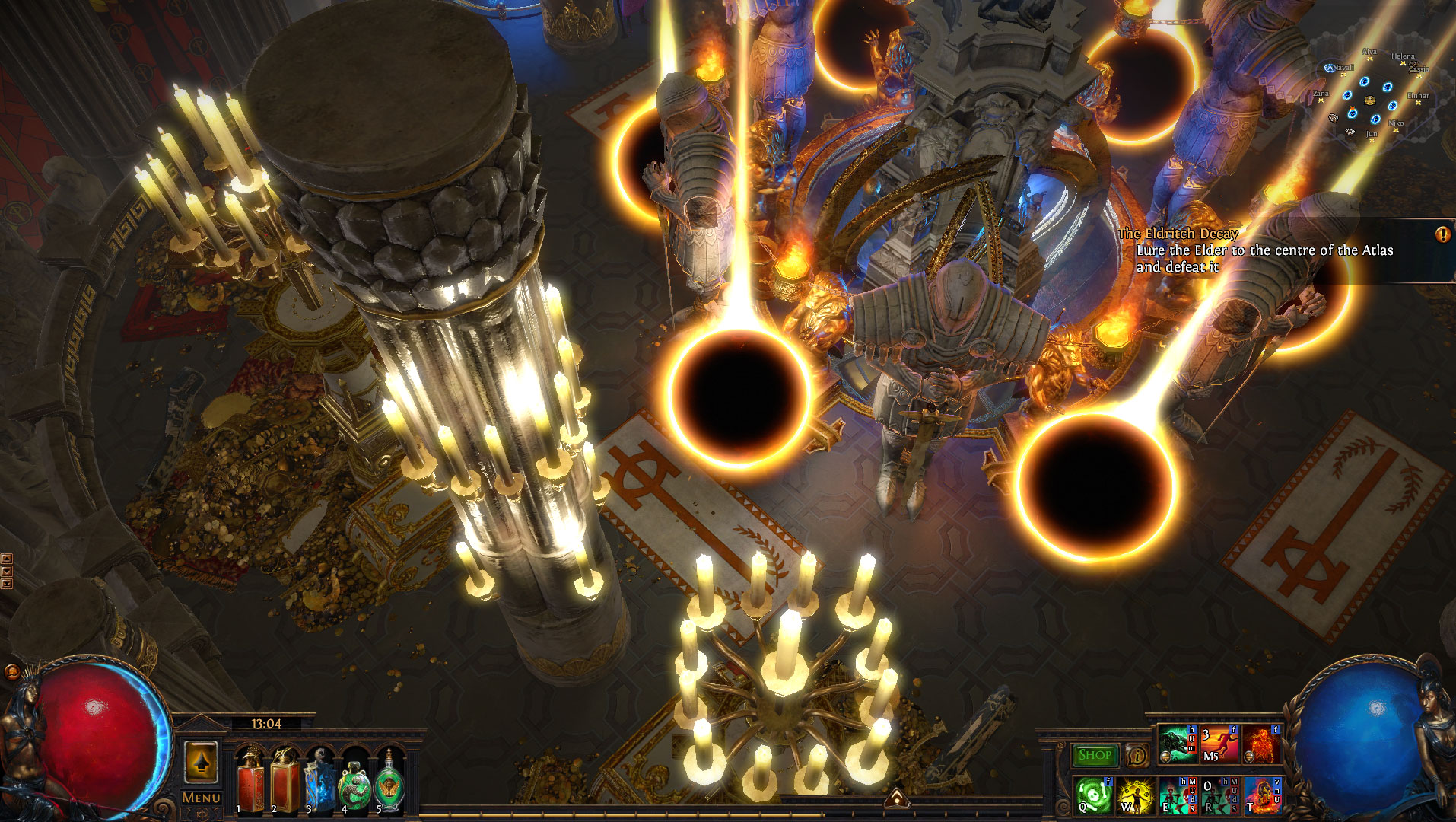 Waves crashed upon the shores of Oriath.
Waves of Hunger.
Waves of Desire.
The Ravenous God and His starving multitude,
Rising with the tide,
Flooding our streets wih death and depravity.
Until Innocence cried out, "No more!"
Bathing our city in fire,
Scorching the wicked to ash and bone.
The Ravenous God fled,
Into the embrace of our glorious Saviour.
Driven down he was into soil, stone and beyond,
Into damnation,
By the Will and Light of our Innocence.
- High Templar Avarius
The Cathedral of Innocence is a small, yet very efficient hideout layout with plenty of room for master portals. I've been using it all league, which has saved me a lot of "travel time" between masters to prog missions.
Hideout version: 2.0.0.
Total decorations: 148
Uses MTX:

No



| Decoration name | MTX | Count |
| --- | --- | --- |
| Alva | No | 1 |
| Crafting Bench | No | 1 |
| Einhar | No | 1 |
| Guild Stash | No | 1 |
| Helena | No | 1 |
| Jun | No | 1 |
| Kirac | No | 1 |
| Map Device | No | 1 |
| Navali | No | 1 |
| Niko | No | 1 |
| Sister Cassia | No | 1 |
| Stash | No | 1 |
| Tane Octavius | No | 1 |
| Waypoint | No | 1 |
| Zana | No | 1 |
| Ruined Standing Lamp | No | 6 |
| Glowing Embers | No | 5 |
| Sanctum Pillar | No | 4 |
| Scattered Coins | No | 25 |
| Blue Light Beam | No | 3 |
| Innocence Bench | No | 2 |
| Innocence Candelabra | No | 16 |
| Templar Rug | No | 4 |
| Bathhouse Rug | No | 8 |
| Golden Chest | No | 2 |
| Bathhouse Mosaic | No | 4 |
| Hanging Lamp | No | 10 |
| Temple Pillar | No | 8 |
| Cave Treasure | No | 18 |
| Golden Sparkles | No | 11 |
| Innocence Statue | No | 1 |
| Sanctum Statue | No | 6 |
2.0.0. | 22 May 2020 - 10:56
Updated with new NPC's
1.0.0. | 05 Oct 2019 - 11:36
Initial release