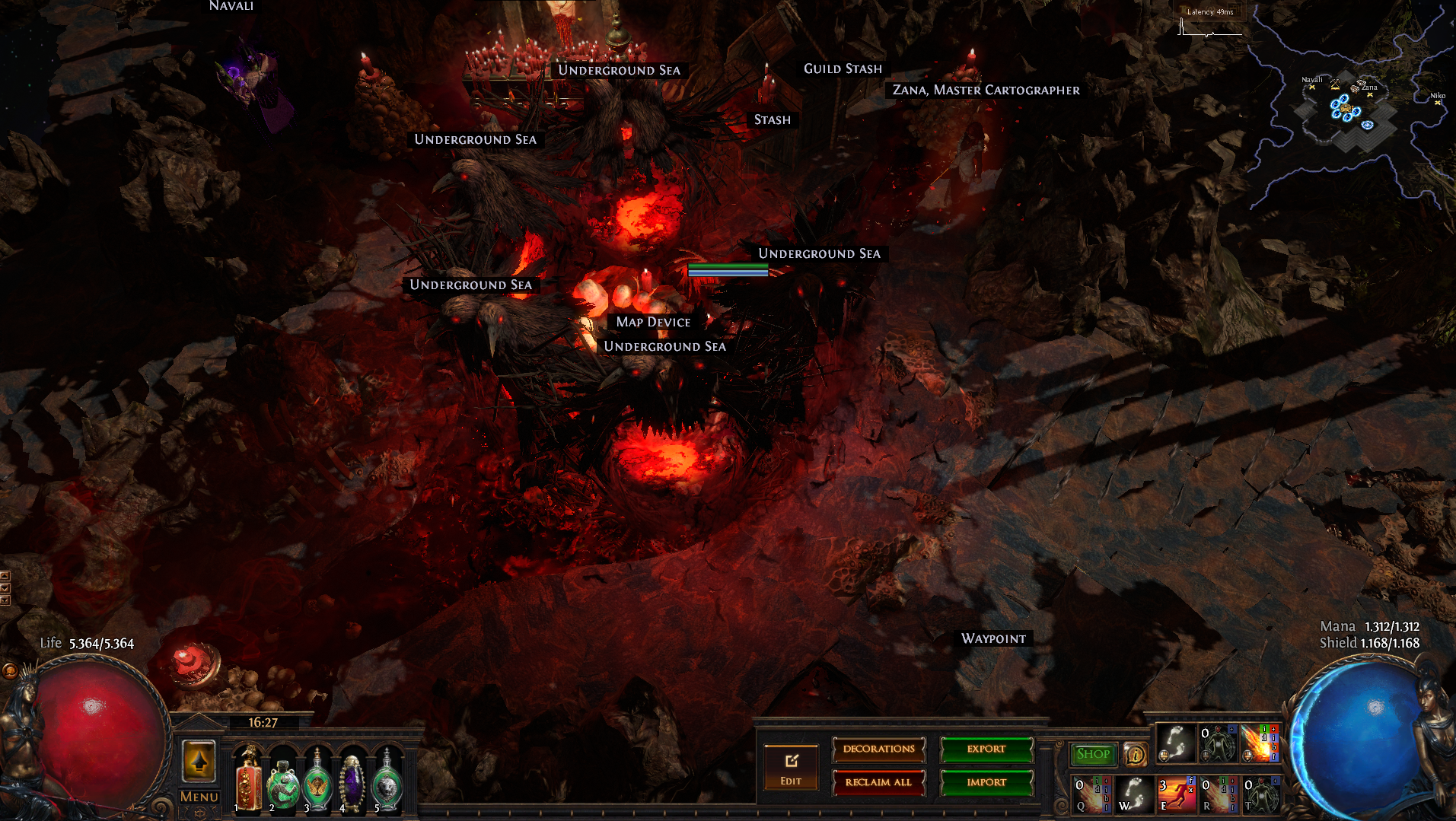 I want to make a shout out to DerroK, who makes great Hideout Guides on Youtube. Some parts, i copied from his Tutorials and changed them so they would fit better in my own hideout. So big thanks to him.
This hideout is made without any MTX, i hit the 763 item cap when i was decorating the Jun area, so it fell a bit short. Because of this, i had to shut off the left upper part of this hideout and block one Portal.
I know that Navali doesnt fit quite well at this position, but its because i generally keep the stash, the map device, the crafting bench and Navali pretty close together, for convenience.
Hideout version: 1.0.0
Total decorations: 763
Uses MTX:

No



| Decoration name | MTX | Count |
| --- | --- | --- |
| Alva | No | 1 |
| Crafting Bench | No | 1 |
| Einhar | No | 1 |
| Guild Stash | No | 1 |
| Helena | No | 1 |
| Jun | No | 1 |
| Map Device | No | 1 |
| Navali | No | 1 |
| Niko | No | 1 |
| Stash | No | 1 |
| Waypoint | No | 1 |
| Zana | No | 1 |
| Crypt Rubble | No | 36 |
| Crypt Tomb | No | 5 |
| Skull Pile | No | 12 |
| Large Rocks | No | 80 |
| Ossuary Grave | No | 1 |
| Pooling Blood | No | 43 |
| Seed of Corruption | No | 2 |
| Stone Archway | No | 1 |
| Wall of Spikes | No | 9 |
| Belly Ground Spikes | No | 4 |
| Bone Sculpture | No | 3 |
| Bulbous Flesh | No | 6 |
| Colossus Hand | No | 2 |
| Colossus Head | No | 1 |
| Impaled Monster | No | 4 |
| Ruined Banner | No | 3 |
| Severed Heads | No | 11 |
| Thick Trees | No | 6 |
| Blood Fog (Red) | No | 2 |
| Bloody Corpse Pile | No | 3 |
| Corrupted Specks | No | 3 |
| Corruption | No | 5 |
| Clay Pot | No | 21 |
| Forest Rock | No | 3 |
| Monster Corpse | No | 13 |
| Forest Flowers | No | 1 |
| Flax Plant | No | 7 |
| Meat Baskets | No | 1 |
| Tree | No | 8 |
| Agave Plant | No | 3 |
| Aloe Plant | No | 3 |
| Burned Tree | No | 1 |
| Bush | No | 4 |
| Dry Flax | No | 3 |
| Garden Path | No | 4 |
| Low Mossy Wall | No | 5 |
| Macrotaen Plant | No | 2 |
| Malachai's Dedication | No | 5 |
| Hung Corpse | No | 1 |
| Mossy Wall Arch | No | 1 |
| Overgrown Statue | No | 1 |
| Small Garden Statue | No | 1 |
| Kitava Banner | No | 1 |
| Lava Glow | No | 1 |
| Blown Leaves | No | 2 |
| Large Overgrown Statue | No | 1 |
| Overgrown Offering Statue | No | 1 |
| Whale Skeleton Ribs | No | 2 |
| Bare Tree | No | 2 |
| Raging Fire | No | 1 |
| Manifesto Stand | No | 1 |
| Corpse Sculpture | No | 1 |
| Den Large Rock | No | 8 |
| Den Stalagmites | No | 2 |
| Mushroom Cluster | No | 9 |
| Sewer Moss | No | 20 |
| Stone Pieces | No | 249 |
| Cave Pillar | No | 3 |
| Prison Stocks | No | 1 |
| Corrupt Marble | No | 16 |
| Prison Cage | No | 1 |
| Skull Display | No | 10 |
| Maraketh Lantern | No | 3 |
| Tools Board | No | 1 |
| Abyssal Ritual Circle | No | 1 |
| Ghostly Fog | No | 1 |
| Water Fog | No | 2 |
| Innocence Candle | No | 22 |
| Oriath Weapons Crate | No | 2 |
| Innocence Candelabra | No | 11 |
| Oriath Supply Crate | No | 1 |
| Innocence Shrine | No | 7 |
| Red Carpet | No | 20 |
| Burned Rug | No | 3 |
| Gilded Iron Maiden | No | 1 |
| Medium Golden Statue | No | 2 |
| Innocence Statue Pedestal | No | 6 |
| Large Golden Statue | No | 1 |
| Oriath Statue | No | 1 |
| Verdant Tree | No | 3 |
Latest version: 1.0.0
| Version number | MTX | Publish date | Total favor | Total decorations | Downloads | Link |
| --- | --- | --- | --- | --- | --- | --- |
| 1.0.0 | No | 2019-04-28 15:04:44 | 2,728,930 | 763 | 3451 | Download |
1.0.0 | 28 Apr 2019 - 15:04
Initial release