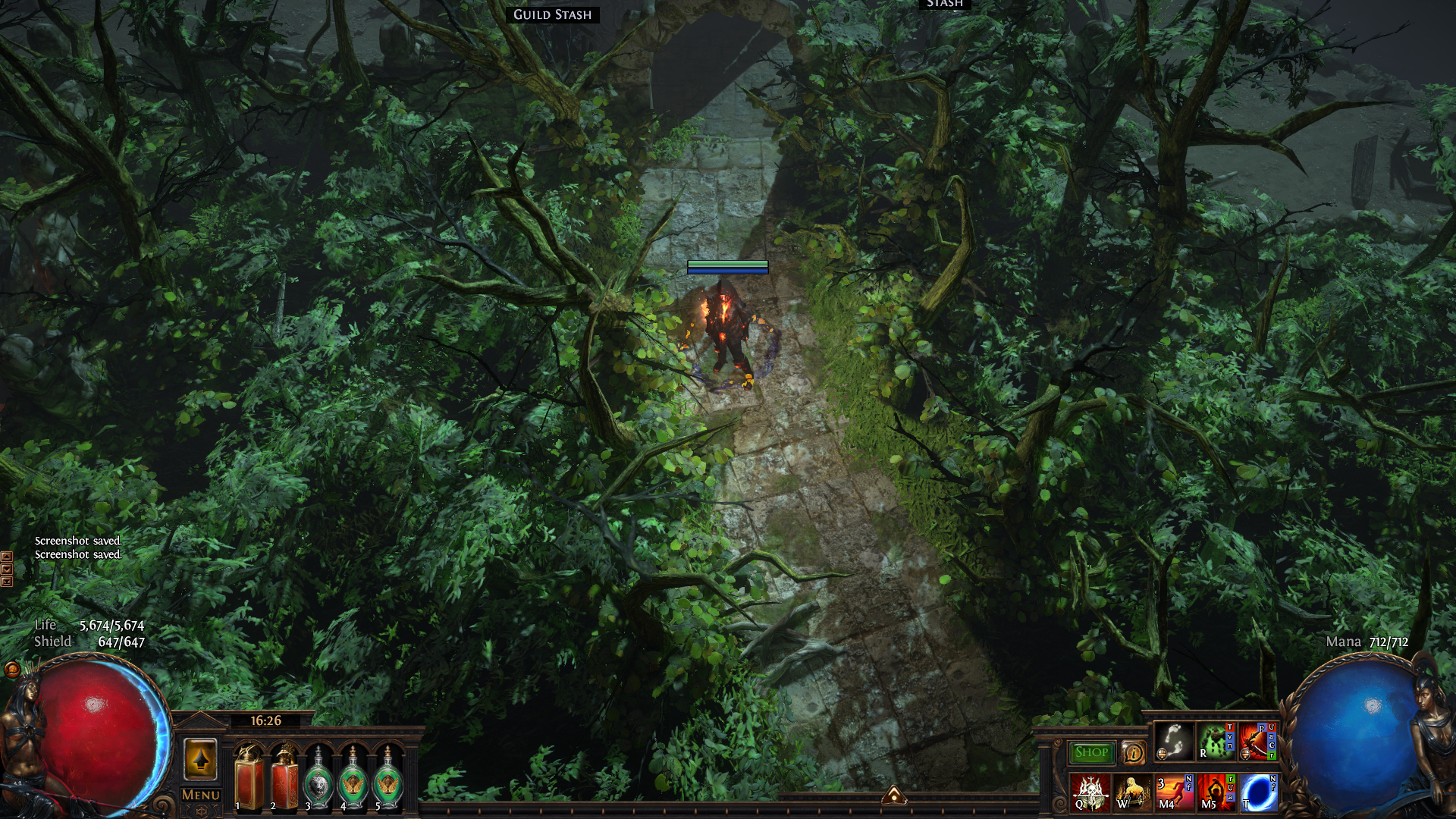 A small island with a dense forest center. It contains a living area with houses, a camp area for Einhar and an Azurite mine. A broken lighthouse to the north doubles as a map device.
MTX: All At Sea Hideout, Mystic Cave.
Warning: I'm using an 4.2 GHz i7, GTX 1060 (6GB) and 16GB of ram. This hideout absolutely destroys my FPS on max settings, I assume it's because of all the shadows from the trees. It runs fine on the mid settings I usually play the game at.
Hideout version: 1.0
Total cost: 1,301,570


Total decorations: 765
Uses MTX:

Yes



Einhar, Beastmaster Level: 7
Zana, Master Cartographer Level: 4
Alva, Master Explorer Level: 7
Niko, Master of the Depths Level: 7
Jun, Veiled Master Level: 5

Calculate your personal cost
| Decoration | Decoration name | Buy from | Master level | Cost | Amount | Total cost |
| --- | --- | --- | --- | --- | --- | --- |
| | Mystic Cave | MTX | 0 | 0 | 1 | 0 |
| | Alva | No master | 0 | 0 | 1 | 0 |
| | Crafting Bench | No master | 0 | 0 | 1 | 0 |
| | Einhar | No master | 0 | 0 | 1 | 0 |
| | Guild Stash | No master | 0 | 0 | 1 | 0 |
| | Helena | No master | 0 | 0 | 1 | 0 |
| | Jun | No master | 0 | 0 | 1 | 0 |
| | Kirac | No master | 0 | 0 | 1 | 0 |
| | Map Device | No master | 0 | 0 | 1 | 0 |
| | Navali | No master | 0 | 0 | 1 | 0 |
| | Niko | No master | 0 | 0 | 1 | 0 |
| | Sister Cassia | No master | 0 | 0 | 1 | 0 |
| | Stash | No master | 0 | 0 | 1 | 0 |
| | Tane Octavius | No master | 0 | 0 | 1 | 0 |
| | Waypoint | No master | 0 | 0 | 1 | 0 |
| | Zana | No master | 0 | 0 | 1 | 0 |
| | Torch | Alva, Master Explorer | 1 | 910 | 1 | 910 |
| | Driftwood Log | Alva, Master Explorer | 2 | 330 | 4 | 1,320 |
| | Vaal Fire Pit | Alva, Master Explorer | 2 | 860 | 1 | 860 |
| | Boat Remains | Alva, Master Explorer | 3 | 710 | 1 | 710 |
| | Full Armour Stand | Alva, Master Explorer | 3 | 1,860 | 1 | 1,860 |
| | Slave Pens Bed | Alva, Master Explorer | 3 | 1,860 | 1 | 1,860 |
| | Vaal Curtain | Alva, Master Explorer | 3 | 710 | 1 | 710 |
| | Cloth Post | Alva, Master Explorer | 4 | 1,220 | 1 | 1,220 |
| | Large Boat Remains | Alva, Master Explorer | 4 | 3,170 | 1 | 3,170 |
| | Vaal Scattered Papers | Alva, Master Explorer | 5 | 6,760 | 1 | 6,760 |
| | Slave Pens Rug | Alva, Master Explorer | 6 | 4,090 | 1 | 4,090 |
| | Highgate Weapon Rack | Alva, Master Explorer | 7 | 35,890 | 1 | 35,890 |
| | Large Aqueduct Boat | Alva, Master Explorer | 7 | 35,890 | 1 | 35,890 |
| | Lighthouse Remains | Alva, Master Explorer | 7 | 35,890 | 1 | 35,890 |
| | Driftwood Branches | Einhar, Beastmaster | 1 | 140 | 39 | 5,460 |
| | Animal Cage | Einhar, Beastmaster | 2 | 860 | 1 | 860 |
| | Barrels | Einhar, Beastmaster | 2 | 860 | 4 | 3,440 |
| | Buckets | Einhar, Beastmaster | 2 | 330 | 1 | 330 |
| | Grass Ground | Einhar, Beastmaster | 2 | 330 | 2 | 660 |
| | Ramshackle Ladder | Einhar, Beastmaster | 2 | 860 | 1 | 860 |
| | Shore Plank Debris | Einhar, Beastmaster | 2 | 330 | 6 | 1,980 |
| | Slum Debris | Einhar, Beastmaster | 2 | 330 | 1 | 330 |
| | Wooden Plate | Einhar, Beastmaster | 2 | 860 | 1 | 860 |
| | Cannibal Sheet | Einhar, Beastmaster | 3 | 710 | 2 | 1,420 |
| | Chopped Wood | Einhar, Beastmaster | 3 | 710 | 1 | 710 |
| | Fish Stand | Einhar, Beastmaster | 3 | 710 | 1 | 710 |
| | Grass Patch | Einhar, Beastmaster | 3 | 710 | 66 | 46,860 |
| | Lush Tree | Einhar, Beastmaster | 3 | 1,860 | 103 | 191,580 |
| | Sitting Log | Einhar, Beastmaster | 3 | 710 | 4 | 2,840 |
| | Tree | Einhar, Beastmaster | 3 | 710 | 81 | 57,510 |
| | Bush | Einhar, Beastmaster | 4 | 1,220 | 2 | 2,440 |
| | Garden Path | Einhar, Beastmaster | 4 | 1,220 | 47 | 57,340 |
| | Low Mossy Wall | Einhar, Beastmaster | 4 | 1,220 | 37 | 45,140 |
| | Road Trim | Einhar, Beastmaster | 4 | 1,220 | 4 | 4,880 |
| | Shore Bonfire | Einhar, Beastmaster | 4 | 3,170 | 1 | 3,170 |
| | Mossy Wall | Einhar, Beastmaster | 5 | 6,760 | 25 | 169,000 |
| | Mossy Wall Arch | Einhar, Beastmaster | 5 | 2,570 | 4 | 10,280 |
| | Ski Equipment | Einhar, Beastmaster | 5 | 2,570 | 1 | 2,570 |
| | Wagon | Einhar, Beastmaster | 5 | 16,020 | 1 | 16,020 |
| | Medium Tent | Einhar, Beastmaster | 7 | 5,830 | 1 | 5,830 |
| | Ornate Wall Hanging | Jun, Veiled Master | 1 | 910 | 1 | 910 |
| | Bare Branches | Jun, Veiled Master | 2 | 330 | 3 | 990 |
| | Rising Smoke | Jun, Veiled Master | 2 | 330 | 1 | 330 |
| | Sand Pile | Jun, Veiled Master | 3 | 710 | 88 | 62,480 |
| | Syndicate Flag | Jun, Veiled Master | 3 | 4,400 | 1 | 4,400 |
| | Syndicate Shield Stand | Jun, Veiled Master | 5 | 16,020 | 1 | 16,020 |
| | Azurite Bucket | Niko, Master of the Depths | 1 | 910 | 2 | 1,820 |
| | Crumbled Boxes | Niko, Master of the Depths | 1 | 140 | 1 | 140 |
| | Den Large Rock | Niko, Master of the Depths | 1 | 380 | 1 | 380 |
| | Den Small Rock | Niko, Master of the Depths | 1 | 140 | 88 | 12,320 |
| | Damaged Cargo | Niko, Master of the Depths | 2 | 330 | 7 | 2,310 |
| | Dirt Ground | Niko, Master of the Depths | 2 | 330 | 45 | 14,850 |
| | Low Fire Pit | Niko, Master of the Depths | 2 | 860 | 1 | 860 |
| | Market Debris | Niko, Master of the Depths | 2 | 330 | 1 | 330 |
| | Wagon Debris | Niko, Master of the Depths | 2 | 330 | 1 | 330 |
| | Damaged Barrels | Niko, Master of the Depths | 3 | 710 | 1 | 710 |
| | Azurite Chunk | Niko, Master of the Depths | 4 | 3,170 | 3 | 9,510 |
| | Scattered Papers | Niko, Master of the Depths | 6 | 4,090 | 1 | 4,090 |
| | Tools Board | Niko, Master of the Depths | 6 | 10,720 | 1 | 10,720 |
| | Azurite Vein | Niko, Master of the Depths | 7 | 35,890 | 5 | 179,450 |
| | Discarded Sheet | Niko, Master of the Depths | 7 | 5,830 | 4 | 23,320 |
| | Slum Building | Niko, Master of the Depths | 7 | 35,890 | 5 | 179,450 |
| | Blocking Volume | Zana, Master Cartographer | 2 | 140 | 28 | 3,920 |
| | Lioneye's Watch Ground | Zana, Master Cartographer | 2 | 330 | 2 | 660 |
| | Oriath Supply Crate | Zana, Master Cartographer | 3 | 710 | 1 | 710 |
| | Oriath Armour Crate | Zana, Master Cartographer | 4 | 3,170 | 2 | 6,340 |
Latest version: 1.0
| Version number | MTX | Publish date | Total favor | Total decorations | Downloads | Link |
| --- | --- | --- | --- | --- | --- | --- |
| 1.0 | Yes | 2021-06-09 15:45:08 | 1,301,570 | 765 | 9 | Download |
1.0 | 09 Jun 2021 - 15:45
Initial release