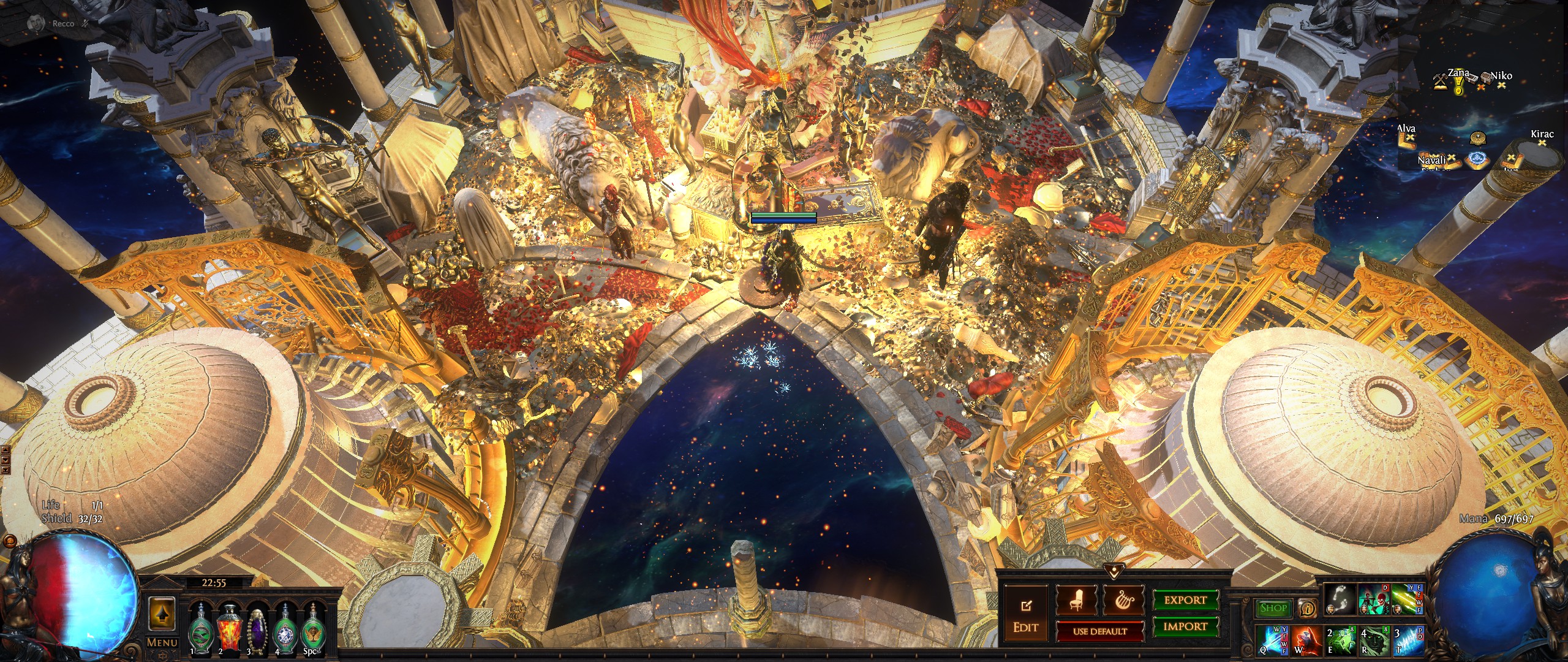 It uses the original hideout "Celestial Gate" by @Noooberino as a basis. All credits are yours.
I have updated the hideout to have more content. The MTX elements are not necessary, but they give it a very special atmosphere.
The Challenger Trophies are inside the two temples, so they can bright from the top.
Hideout version: 1.0
Total cost: 5,336,260


Total decorations: 758
Uses MTX:

Yes



Einhar, Beastmaster Level: 2
Zana, Master Cartographer Level: 7
Alva, Master Explorer Level: 6
Niko, Master of the Depths Level: 7
Jun, Veiled Master Level: 4

Calculate your personal cost
| Decoration | Decoration name | Buy from | Master level | Cost | Amount | Total cost |
| --- | --- | --- | --- | --- | --- | --- |
| | Delirium Challenger Trophy | MTX | 0 | 0 | 1 | 0 |
| | Harvest Challenger Trophy | MTX | 0 | 0 | 1 | 0 |
| | Laboratory Benches | MTX | 0 | 0 | 1 | 0 |
| | Laboratory Environment Hideout Decoration | MTX | 0 | 0 | 1 | 0 |
| | Sunspire Hideout Effect | MTX | 0 | 0 | 1 | 0 |
| | Wrangler Gold Rain | MTX | 0 | 0 | 1 | 0 |
| | Alva | No master | 0 | 0 | 1 | 0 |
| | Crafting Bench | No master | 0 | 0 | 1 | 0 |
| | Einhar | No master | 0 | 0 | 1 | 0 |
| | Guild Stash | No master | 0 | 0 | 1 | 0 |
| | Helena | No master | 0 | 0 | 1 | 0 |
| | Jun | No master | 0 | 0 | 1 | 0 |
| | Kirac | No master | 0 | 0 | 1 | 0 |
| | Map Device | No master | 0 | 0 | 1 | 0 |
| | Navali | No master | 0 | 0 | 1 | 0 |
| | Niko | No master | 0 | 0 | 1 | 0 |
| | Sister Cassia | No master | 0 | 0 | 1 | 0 |
| | Stash | No master | 0 | 0 | 1 | 0 |
| | Tane Octavius | No master | 0 | 0 | 1 | 0 |
| | Waypoint | No master | 0 | 0 | 1 | 0 |
| | Zana | No master | 0 | 0 | 1 | 0 |
| | Ancient Books | Alva, Master Explorer | 1 | 140 | 2 | 280 |
| | Sleeping Lion Statue | Alva, Master Explorer | 2 | 2,040 | 1 | 2,040 |
| | Church Pillar | Alva, Master Explorer | 4 | 1,220 | 3 | 3,660 |
| | Hungry Exile | Alva, Master Explorer | 4 | 1,220 | 1 | 1,220 |
| | Sitting Lion Statue | Alva, Master Explorer | 4 | 7,490 | 1 | 7,490 |
| | Vaal Tablets | Alva, Master Explorer | 4 | 3,170 | 222 | 703,740 |
| | Ossuary Brazier | Alva, Master Explorer | 5 | 6,760 | 1 | 6,760 |
| | Glowing Embers | Alva, Master Explorer | 6 | 4,090 | 11 | 44,990 |
| | Rusty Gear | Einhar, Beastmaster | 2 | 860 | 13 | 11,180 |
| | Altar Burner | Jun, Veiled Master | 2 | 2,040 | 6 | 12,240 |
| | Oriath Ground | Jun, Veiled Master | 2 | 330 | 29 | 9,570 |
| | Blue Light Beam | Jun, Veiled Master | 3 | 580 | 3 | 1,740 |
| | Oriath Curb | Jun, Veiled Master | 3 | 710 | 61 | 43,310 |
| | Triumph Fountain | Jun, Veiled Master | 4 | 7,490 | 1 | 7,490 |
| | Bricks | Niko, Master of the Depths | 1 | 140 | 133 | 18,620 |
| | Iron Candelabra | Niko, Master of the Depths | 2 | 2,040 | 64 | 130,560 |
| | Relic Pile | Niko, Master of the Depths | 4 | 3,170 | 4 | 12,680 |
| | Small Relic Stand | Niko, Master of the Depths | 5 | 2,570 | 6 | 15,420 |
| | Oil Lamp | Niko, Master of the Depths | 6 | 4,090 | 1 | 4,090 |
| | Relic Stand | Niko, Master of the Depths | 6 | 10,720 | 1 | 10,720 |
| | Scattered Papers | Niko, Master of the Depths | 6 | 4,090 | 2 | 8,180 |
| | Abyssal Ritual Circle | Niko, Master of the Depths | 7 | 77,540 | 1 | 77,540 |
| | Discarded Sheet | Niko, Master of the Depths | 7 | 5,830 | 3 | 17,490 |
| | Shrouded Furniture | Niko, Master of the Depths | 7 | 5,830 | 15 | 87,450 |
| | Candelabrum | Zana, Master Cartographer | 2 | 860 | 3 | 2,580 |
| | Golden Vessel | Zana, Master Cartographer | 2 | 2,040 | 1 | 2,040 |
| | Oriathan Books | Zana, Master Cartographer | 2 | 380 | 2 | 760 |
| | Innocence Candelabra | Zana, Master Cartographer | 3 | 1,860 | 1 | 1,860 |
| | Arena Petals | Zana, Master Cartographer | 4 | 1,220 | 20 | 24,400 |
| | Golden Statue | Zana, Master Cartographer | 4 | 7,490 | 1 | 7,490 |
| | Innocence Shrine | Zana, Master Cartographer | 4 | 7,490 | 1 | 7,490 |
| | Gilded Iron Maiden | Zana, Master Cartographer | 5 | 16,020 | 1 | 16,020 |
| | Golden Chest | Zana, Master Cartographer | 5 | 16,020 | 2 | 32,040 |
| | Medium Golden Statue | Zana, Master Cartographer | 5 | 16,020 | 8 | 128,160 |
| | Oriath Brazier | Zana, Master Cartographer | 5 | 2,570 | 1 | 2,570 |
| | Golden Offering Statue | Zana, Master Cartographer | 6 | 35,890 | 1 | 35,890 |
| | Temple Pillar | Zana, Master Cartographer | 6 | 10,720 | 3 | 32,160 |
| | Arched Gateway | Zana, Master Cartographer | 7 | 35,890 | 39 | 1,399,710 |
| | Cave Treasure | Zana, Master Cartographer | 7 | 35,890 | 35 | 1,256,150 |
| | Columns | Zana, Master Cartographer | 7 | 35,890 | 7 | 251,230 |
| | Innocence Statue | Zana, Master Cartographer | 7 | 35,890 | 3 | 107,670 |
| | Large Bird Cage | Zana, Master Cartographer | 7 | 35,890 | 2 | 71,780 |
| | Oriath Statue | Zana, Master Cartographer | 7 | 35,890 | 19 | 681,910 |
| | Temple Throne | Zana, Master Cartographer | 7 | 35,890 | 1 | 35,890 |
Latest version: 1.0
| Version number | MTX | Publish date | Total favor | Total decorations | Downloads | Link |
| --- | --- | --- | --- | --- | --- | --- |
| 1.0 | Yes | 2020-09-11 20:57:50 | 5,336,260 | 758 | 180 | Download |
1.0 | 11 Sep 2020 - 20:57
Initial release