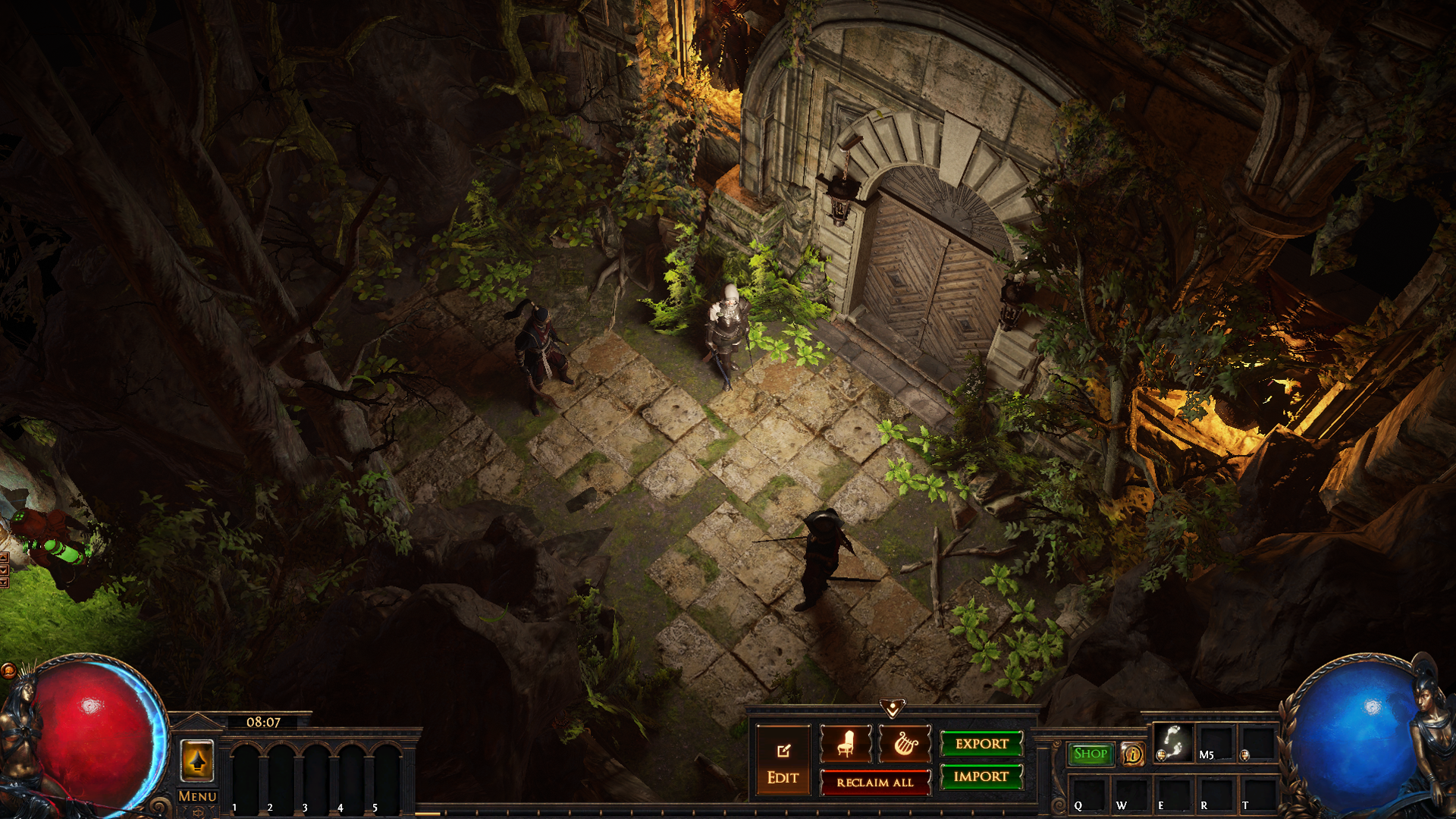 For FallMakesHideout's Iron Hideout competition: Secret Haven! Link to the forum thread here: https://www.pathofexile.com/forum/view-thread/2930454
► How your hideout fits the theme: I've been taking lesser-used and typically very small hideouts to the next level by sprinkling some love and sparkles over them. Cartographer's hideout was my first favorite hideout, but due to the size and light, it was very difficult to work around. BUT! When the water plane decoration was released, I decided I needed to give it another go, because the level differences would make an amazing lake. Throw in Fall's decision to make the theme "Secret Haven" and I knew what I was going to do.
The Secret Forest Lake is a secluded haven, just outside a grand old keep, inhabited by the Godslayers. This is where our tired exiles can relax and recharge afer hard days of traversing the Atlas. It may be small, but it has everything needed. And while the Godslayers are away, off to save the world, the groundkeeper and his wife (who lives in the small hut by the lake) oversees the maintenance of the place.
Hideout version: 1.0
Total decorations: 214
Uses MTX:

No



| Decoration name | MTX | Count |
| --- | --- | --- |
| Alva | No | 1 |
| Crafting Bench | No | 1 |
| Einhar | No | 1 |
| Guild Stash | No | 1 |
| Helena | No | 1 |
| Jun | No | 1 |
| Kirac | No | 1 |
| Map Device | No | 1 |
| Navali | No | 1 |
| Niko | No | 1 |
| Sister Cassia | No | 1 |
| Stash | No | 1 |
| Tane Octavius | No | 1 |
| Waypoint | No | 1 |
| Zana | No | 1 |
| Driftwood Log | No | 22 |
| Slave Pens Barrel | No | 1 |
| Hungry Exile | No | 1 |
| Slave Pens Crate | No | 1 |
| Large Rocks | No | 32 |
| Fellshrine Ruins | No | 2 |
| Large Church Wall Arch | No | 1 |
| Ramshackle Hut | No | 1 |
| Driftwood Branches | No | 6 |
| Forest Flowers | No | 4 |
| Grass Ground | No | 6 |
| Menagerie Bucket | No | 1 |
| Fish Stand | No | 1 |
| Grass Patch | No | 2 |
| Lush Tree | No | 8 |
| Sitting Log | No | 2 |
| Tree | No | 3 |
| Bush | No | 11 |
| Dry Tree | No | 19 |
| Garden Path | No | 6 |
| Shore Bonfire | No | 1 |
| Desert Plants | No | 4 |
| Coral Cluster | No | 5 |
| Kitava Banner | No | 3 |
| Blown Leaves | No | 4 |
| Coral Formation | No | 4 |
| Maple Tree | No | 2 |
| Oriath Curb | No | 1 |
| Oriathan Child | No | 1 |
| Oriath Doorway | No | 1 |
| Overgrown Boulder | No | 3 |
| Den Large Rock | No | 2 |
| Den Small Rock | No | 4 |
| Maraketh Lantern | No | 3 |
| Volcanic Rock | No | 2 |
| Blocking Volume | No | 11 |
| Oriath Weapons Crate | No | 4 |
| Oriath Lantern | No | 4 |
| Water Plane | No | 5 |
| Wicker Basket | No | 1 |
| Hanging Lamp | No | 2 |
| Pohutukawa Tree | No | 2 |
Latest version: 1.0
| Version number | MTX | Publish date | Total favor | Total decorations | Downloads | Link |
| --- | --- | --- | --- | --- | --- | --- |
| 1.0 | No | 2020-08-30 06:37:17 | 705,140 | 214 | 424 | Download |
1.0 | 30 Aug 2020 - 06:37
Initial release