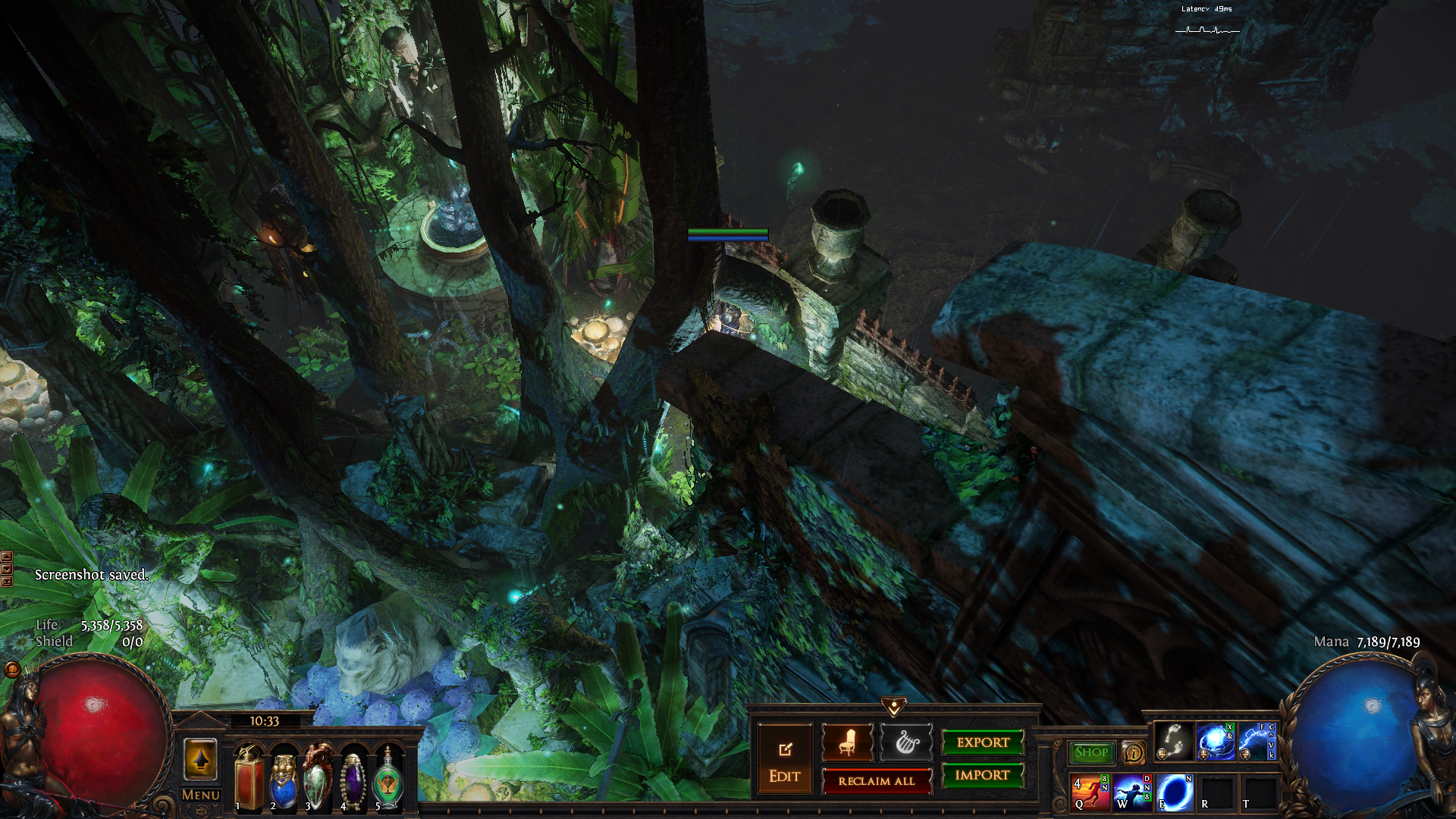 This was my first and original hideout.
I had imagined my character as a scholarly excavator exploring the ruins and unearthing the secrets there. I built her a little work tent as she could never tear herself away from her work to return home to rest.
This one has a lot of microtransactions...I am working on the no MTX version.
Hideout version: 1.0
Total cost: 3,462,480


Total decorations: 747
Uses MTX:

Yes



Einhar, Beastmaster Level: 7
Zana, Master Cartographer Level: 7
Alva, Master Explorer Level: 7
Niko, Master of the Depths Level: 6
Jun, Veiled Master Level: 0

Calculate your personal cost
| Decoration | Decoration name | Buy from | Master level | Cost | Amount | Total cost |
| --- | --- | --- | --- | --- | --- | --- |
| | Arcane Flame | MTX | 0 | 0 | 4 | 0 |
| | Mystic Glowworms | MTX | 0 | 0 | 65 | 0 |
| | Oriath Fence | MTX | 0 | 0 | 1 | 0 |
| | Water Elemental Hideout Decoration | MTX | 0 | 0 | 7 | 0 |
| | White Fern | MTX | 0 | 0 | 21 | 0 |
| | White Lights | MTX | 0 | 0 | 9 | 0 |
| | Wide Light Beam | MTX | 0 | 0 | 1 | 0 |
| | Wisp Swarm | MTX | 0 | 0 | 15 | 0 |
| | Alva | No master | 0 | 0 | 1 | 0 |
| | Crafting Bench | No master | 0 | 0 | 1 | 0 |
| | Einhar | No master | 0 | 0 | 1 | 0 |
| | Guild Stash | No master | 0 | 0 | 1 | 0 |
| | Helena | No master | 0 | 0 | 1 | 0 |
| | Jun | No master | 0 | 0 | 1 | 0 |
| | Kirac | No master | 0 | 0 | 1 | 0 |
| | Map Device | No master | 0 | 0 | 1 | 0 |
| | Navali | No master | 0 | 0 | 1 | 0 |
| | Niko | No master | 0 | 0 | 1 | 0 |
| | Seed Stockpile | No master | 0 | 0 | 1 | 0 |
| | Sister Cassia | No master | 0 | 0 | 1 | 0 |
| | Stash | No master | 0 | 0 | 1 | 0 |
| | Tane Octavius | No master | 0 | 0 | 1 | 0 |
| | Waypoint | No master | 0 | 0 | 1 | 0 |
| | Zana | No master | 0 | 0 | 1 | 0 |
| | Weathered Pot | Alva, Master Explorer | 1 | 380 | 4 | 1,520 |
| | Vaal Fire Pit | Alva, Master Explorer | 2 | 860 | 1 | 860 |
| | Vaal Pylon | Alva, Master Explorer | 2 | 330 | 1 | 330 |
| | Foothills Grass | Alva, Master Explorer | 3 | 710 | 4 | 2,840 |
| | Stone Well | Alva, Master Explorer | 3 | 1,860 | 2 | 3,720 |
| | Tombstone | Alva, Master Explorer | 3 | 710 | 1 | 710 |
| | Sarcophagus | Alva, Master Explorer | 4 | 3,170 | 1 | 3,170 |
| | Swamp Tree Stump | Alva, Master Explorer | 4 | 1,220 | 1 | 1,220 |
| | Vaal Marker | Alva, Master Explorer | 4 | 1,220 | 5 | 6,100 |
| | Large Pillar | Alva, Master Explorer | 5 | 6,760 | 3 | 20,280 |
| | Ruined Pillar | Alva, Master Explorer | 5 | 2,570 | 2 | 5,140 |
| | Stone Archway | Alva, Master Explorer | 5 | 16,020 | 1 | 16,020 |
| | Church Wall | Alva, Master Explorer | 6 | 10,720 | 7 | 75,040 |
| | Colossus Hand | Alva, Master Explorer | 6 | 55,070 | 1 | 55,070 |
| | Colossus Head | Alva, Master Explorer | 6 | 55,070 | 1 | 55,070 |
| | Colossus Leg | Alva, Master Explorer | 6 | 55,070 | 1 | 55,070 |
| | Colossus Sword | Alva, Master Explorer | 6 | 55,070 | 3 | 165,210 |
| | Ruined Columns | Alva, Master Explorer | 6 | 25,560 | 1 | 25,560 |
| | Ryslatha Tree | Alva, Master Explorer | 6 | 25,560 | 12 | 306,720 |
| | Standing Lion Statue | Alva, Master Explorer | 6 | 25,560 | 1 | 25,560 |
| | Thick Trees | Alva, Master Explorer | 6 | 10,720 | 2 | 21,440 |
| | Tomb | Alva, Master Explorer | 6 | 10,720 | 2 | 21,440 |
| | Vaal Altar | Alva, Master Explorer | 6 | 10,720 | 1 | 10,720 |
| | Vaal Round Altar | Alva, Master Explorer | 6 | 10,720 | 1 | 10,720 |
| | Fellshrine Ruins | Alva, Master Explorer | 7 | 35,890 | 4 | 143,560 |
| | Large Church Wall Arch | Alva, Master Explorer | 7 | 15,320 | 3 | 45,960 |
| | Winged Statue | Alva, Master Explorer | 7 | 15,320 | 2 | 30,640 |
| | Forest Flowers | Einhar, Beastmaster | 2 | 330 | 108 | 35,640 |
| | Camp Rug | Einhar, Beastmaster | 3 | 710 | 4 | 2,840 |
| | Fern | Einhar, Beastmaster | 3 | 710 | 2 | 1,420 |
| | Forest Tree | Einhar, Beastmaster | 3 | 710 | 22 | 15,620 |
| | Grass Patch | Einhar, Beastmaster | 3 | 710 | 10 | 7,100 |
| | Lush Tree | Einhar, Beastmaster | 3 | 1,860 | 5 | 9,300 |
| | Prayer Stones | Einhar, Beastmaster | 3 | 710 | 1 | 710 |
| | Tree | Einhar, Beastmaster | 3 | 710 | 16 | 11,360 |
| | Bush | Einhar, Beastmaster | 4 | 1,220 | 68 | 82,960 |
| | Garden Path | Einhar, Beastmaster | 4 | 1,220 | 69 | 84,180 |
| | Red Grass | Einhar, Beastmaster | 4 | 1,220 | 5 | 6,100 |
| | Garden Palm | Einhar, Beastmaster | 5 | 6,760 | 2 | 13,520 |
| | Mossy Wall | Einhar, Beastmaster | 5 | 6,760 | 6 | 40,560 |
| | Overgrown Arch | Einhar, Beastmaster | 5 | 2,570 | 21 | 53,970 |
| | Overgrown Statue | Einhar, Beastmaster | 5 | 6,760 | 3 | 20,280 |
| | Raphina Tree | Einhar, Beastmaster | 5 | 6,760 | 3 | 20,280 |
| | Small Garden Statue | Einhar, Beastmaster | 5 | 2,570 | 2 | 5,140 |
| | Thicket Tree | Einhar, Beastmaster | 5 | 2,570 | 1 | 2,570 |
| | Bulb Palm | Einhar, Beastmaster | 6 | 10,720 | 13 | 139,360 |
| | Lush Palm | Einhar, Beastmaster | 6 | 10,720 | 4 | 42,880 |
| | Overgrown Wall | Einhar, Beastmaster | 6 | 10,720 | 28 | 300,160 |
| | Sarn Tree | Einhar, Beastmaster | 6 | 10,720 | 4 | 42,880 |
| | Stone Statue | Einhar, Beastmaster | 6 | 10,720 | 10 | 107,200 |
| | Large Overgrown Statue | Einhar, Beastmaster | 7 | 15,320 | 3 | 45,960 |
| | Lion Statue | Einhar, Beastmaster | 7 | 15,320 | 2 | 30,640 |
| | Overgrown Offering Statue | Einhar, Beastmaster | 7 | 15,320 | 3 | 45,960 |
| | Ravenal Tree | Einhar, Beastmaster | 7 | 5,830 | 2 | 11,660 |
| | Mushroom Cluster | Niko, Master of the Depths | 1 | 140 | 29 | 4,060 |
| | Iron Candelabra | Niko, Master of the Depths | 2 | 2,040 | 1 | 2,040 |
| | Metal Lantern | Niko, Master of the Depths | 3 | 1,860 | 1 | 1,860 |
| | Copper Chest | Niko, Master of the Depths | 4 | 3,170 | 2 | 6,340 |
| | Grigor's Wall | Niko, Master of the Depths | 4 | 3,170 | 18 | 57,060 |
| | Goddess Statue | Niko, Master of the Depths | 5 | 16,020 | 1 | 16,020 |
| | Library Statue | Niko, Master of the Depths | 6 | 10,720 | 1 | 10,720 |
| | Innocence Candle | Zana, Master Cartographer | 1 | 140 | 1 | 140 |
| | Oriathan Books | Zana, Master Cartographer | 2 | 380 | 1 | 380 |
| | Oriath Lantern | Zana, Master Cartographer | 3 | 710 | 9 | 6,390 |
| | Medium Golden Statue | Zana, Master Cartographer | 5 | 16,020 | 1 | 16,020 |
| | Plant Pot | Zana, Master Cartographer | 5 | 6,760 | 1 | 6,760 |
| | Flower Pot | Zana, Master Cartographer | 6 | 4,090 | 2 | 8,180 |
| | Garden Statue | Zana, Master Cartographer | 6 | 25,560 | 1 | 25,560 |
| | Innocence Statue Pedestal | Zana, Master Cartographer | 6 | 25,560 | 1 | 25,560 |
| | Ornate Planter | Zana, Master Cartographer | 6 | 10,720 | 4 | 42,880 |
| | Triclinium | Zana, Master Cartographer | 6 | 10,720 | 1 | 10,720 |
| | Arena Flowers | Zana, Master Cartographer | 7 | 15,320 | 12 | 183,840 |
| | Blackguard Officer Tent | Zana, Master Cartographer | 7 | 35,890 | 2 | 71,780 |
| | Golden Sparkles | Zana, Master Cartographer | 7 | 15,320 | 1 | 15,320 |
| | Lordly Chair | Zana, Master Cartographer | 7 | 15,320 | 1 | 15,320 |
| | Oriath Statue | Zana, Master Cartographer | 7 | 35,890 | 1 | 35,890 |
| | Sanctum Statue | Zana, Master Cartographer | 7 | 35,890 | 1 | 35,890 |
| | Side Table | Zana, Master Cartographer | 7 | 35,890 | 1 | 35,890 |
| | Sky Shrine Wall | Zana, Master Cartographer | 7 | 15,320 | 1 | 15,320 |
| | Torture Urn | Zana, Master Cartographer | 7 | 15,320 | 6 | 91,920 |
| | Verdant Tree | Zana, Master Cartographer | 7 | 35,890 | 12 | 430,680 |
Latest version: 1.0
| Version number | MTX | Publish date | Total favor | Total decorations | Downloads | Link |
| --- | --- | --- | --- | --- | --- | --- |
| 1.0 | Yes | 2020-08-08 15:40:18 | 3,462,480 | 747 | 39 | Download |
1.0 | 08 Aug 2020 - 15:40
Initial release