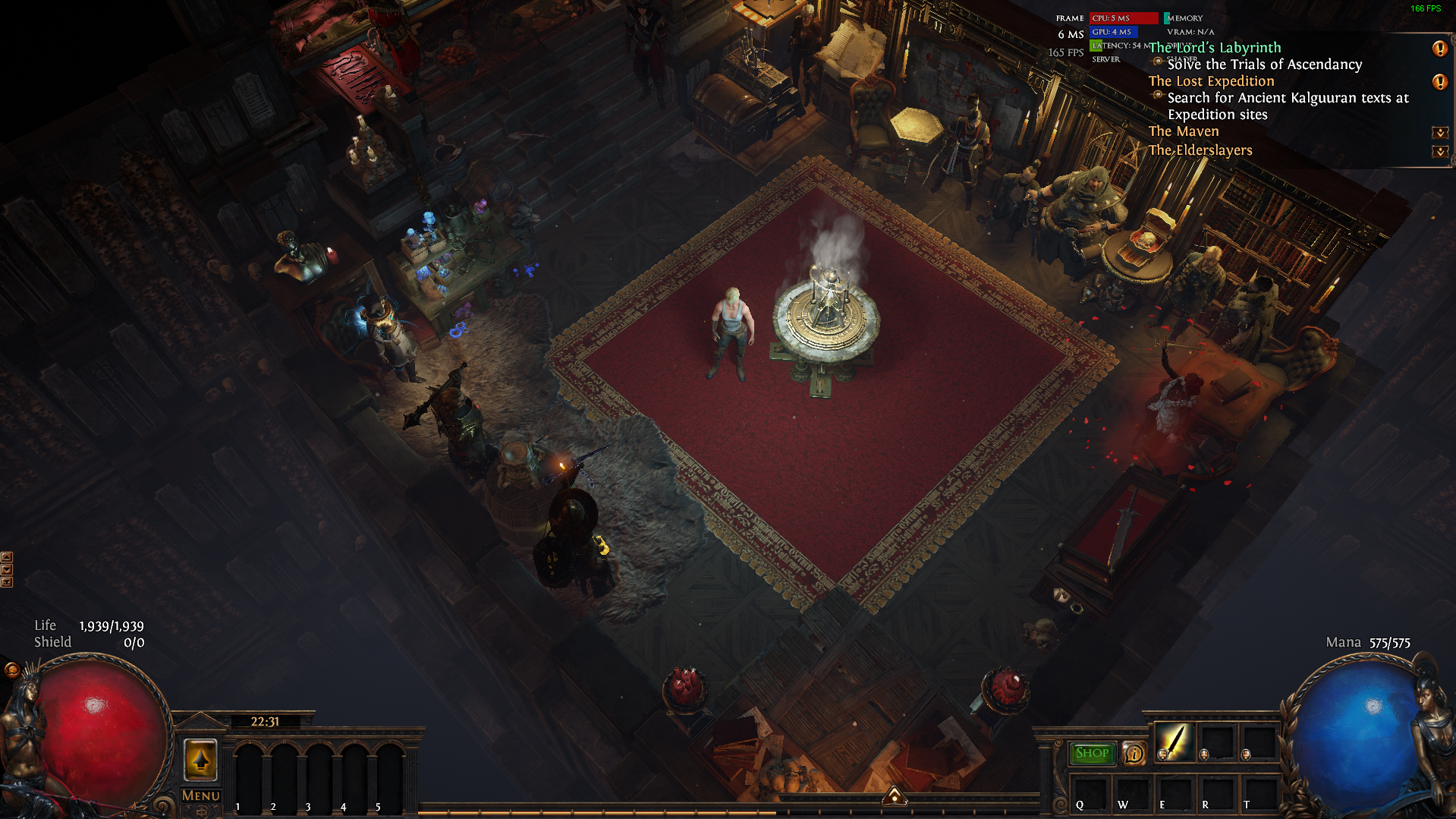 "Red Carpet" One Room,Small,efficient.
A little more bigger than my previous hideout. Here i'm using more favours and furniture, that means more details.
Im using every single npc and utility(That i personally have).
I'd love to hear your feedback about this hideout so please comment. <3
If you try or use it please give me feedback with new ideeas or improvments to this one and mention if you use it (or will use) cz im curious how many people like my art xD
This is my second attempt to make a hideout, if you like it or wanna see more in the future add it to favorite !
Thanks !
Hideout version: 2.0
Total cost: 0


Total decorations: 112
Uses MTX:

No



Einhar, Beastmaster Level: 3
Zana, Master Cartographer Level: 6
Alva, Master Explorer Level: 5
Niko, Master of the Depths Level: 6
Jun, Veiled Master Level: 4

Calculate your personal cost
| Decoration name | Buy from | Master level | Count |
| --- | --- | --- | --- |
| Alva | No master | 0 | 1 |
| Crafting Bench | No master | 0 | 1 |
| Dannig, Warrior Skald | No master | 0 | 1 |
| Einhar | No master | 0 | 1 |
| Expedition Locker | No master | 0 | 1 |
| Guild Stash | No master | 0 | 1 |
| Gwennen, the Gambler | No master | 0 | 1 |
| Heist Locker | No master | 0 | 1 |
| Helena | No master | 0 | 1 |
| Horticrafting Station | No master | 0 | 1 |
| Jun | No master | 0 | 1 |
| Kirac | No master | 0 | 1 |
| Map Device | No master | 0 | 1 |
| Navali | No master | 0 | 1 |
| Niko | No master | 0 | 1 |
| Rog, the Dealer | No master | 0 | 1 |
| Sister Cassia | No master | 0 | 1 |
| Stash | No master | 0 | 1 |
| Tane Octavius | No master | 0 | 1 |
| Tujen, the Haggler | No master | 0 | 1 |
| Waypoint | No master | 0 | 1 |
| Zana | No master | 0 | 1 |
| Ancient Books | Alva, Master Explorer | 1 | 1 |
| Body Armour Stand | Alva, Master Explorer | 1 | 1 |
| Ruined Mat | Alva, Master Explorer | 3 | 2 |
| Ruined Standing Lamp | Alva, Master Explorer | 3 | 1 |
| Ruined Table | Alva, Master Explorer | 4 | 1 |
| Skull Pile | Alva, Master Explorer | 4 | 4 |
| Weathered Grave | Alva, Master Explorer | 4 | 2 |
| Ossuary Brazier | Alva, Master Explorer | 5 | 1 |
| Barrels | Einhar, Beastmaster | 2 | 1 |
| Buckets | Einhar, Beastmaster | 2 | 1 |
| Dead Fish | Einhar, Beastmaster | 2 | 1 |
| Menagerie Bucket | Einhar, Beastmaster | 2 | 1 |
| Camp Rug | Einhar, Beastmaster | 3 | 2 |
| Charred Skeleton | Jun, Veiled Master | 1 | 1 |
| Maraketh Rug | Jun, Veiled Master | 2 | 1 |
| Maraketh Table | Jun, Veiled Master | 2 | 1 |
| Rising Smoke | Jun, Veiled Master | 2 | 1 |
| Sword Display Case | Jun, Veiled Master | 2 | 1 |
| Syndicate Drawers | Jun, Veiled Master | 2 | 1 |
| Blacksmith's Barrel | Jun, Veiled Master | 4 | 1 |
| Maraketh Brazier | Jun, Veiled Master | 4 | 1 |
| Syndicate Helm Stand | Jun, Veiled Master | 4 | 1 |
| Relic Pile | Niko, Master of the Depths | 4 | 1 |
| Map Board | Niko, Master of the Depths | 6 | 1 |
| Relic Case | Niko, Master of the Depths | 6 | 1 |
| Relic Stand | Niko, Master of the Depths | 6 | 1 |
| Scattered Papers | Niko, Master of the Depths | 6 | 1 |
| Innocence Candle | Zana, Master Cartographer | 1 | 1 |
| Oriath Barrels | Zana, Master Cartographer | 1 | 1 |
| Templar Experiment Table | Zana, Master Cartographer | 1 | 1 |
| Blocking Volume | Zana, Master Cartographer | 2 | 2 |
| Candelabrum | Zana, Master Cartographer | 2 | 9 |
| Dark Vessel | Zana, Master Cartographer | 2 | 1 |
| Innocence Candle Row | Zana, Master Cartographer | 2 | 1 |
| Oriathan Books | Zana, Master Cartographer | 2 | 4 |
| Wood Ground | Zana, Master Cartographer | 2 | 10 |
| Courthouse Armchair | Zana, Master Cartographer | 3 | 5 |
| Courthouse Side Table | Zana, Master Cartographer | 3 | 1 |
| Innocence Candelabra | Zana, Master Cartographer | 3 | 3 |
| Interrogation Tools | Zana, Master Cartographer | 3 | 1 |
| Cabinet | Zana, Master Cartographer | 4 | 1 |
| Coffee Table | Zana, Master Cartographer | 4 | 2 |
| Golden Bust | Zana, Master Cartographer | 4 | 1 |
| Red Carpet | Zana, Master Cartographer | 4 | 8 |
| Courthouse Table | Zana, Master Cartographer | 5 | 1 |
| Court Bookcase | Zana, Master Cartographer | 6 | 4 |
Latest version: 2.0
| Version number | MTX | Publish date | Total favor | Total decorations | Downloads | Link |
| --- | --- | --- | --- | --- | --- | --- |
| 2.0 | No | 2021-08-30 20:02:21 | 221,690 | 112 | 192 | Download |
2.0 | 30 Aug 2021 - 20:02
Initial release